About Rootz Hair Salon
We believe that Dundee, MI, Monroe County, and surrounding areas need a high quality, reasonably priced salon for family beauty needs. Rootz Salon will provide expert services and then will empower clients with the education to maintain their own hair, skin and nails. If a client is educated on what their skin, nails and hair needs and how to achieve this, they will return. Our integrity and loyalty will make them feel at home.



About our Name and Logo:
We were looking for a name and logo to give us a unique identity that would fit in with the Dundee community. We wanted a name and logo that would show our commitment to nature and the environment much as Cabela's is to nature and outdoors. We are striving to be a 'Root' in the community for everyone's beauty and grooming needs. We are located in historic downtown Dundee in one of the oldest buildings in Dundee, so our building is a 'Root' of the community. We also strive to grow with Dundee and community much as a tree grows tall and strong with its environment.


Customer Service Focus: The key to Rootz salon success is to always put the client first. Rootz Salon will exceed client expectations with communication, positive client experience, and high quality professional beauty. We will stand behind our services and do everything in our power to please our clients. We will service men, women and children.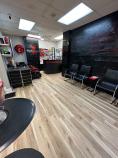 Education & Experience: Heather attended the State College of Beauty in Ann Arbor, MI and the Adrian Beauty Academy in Adrian, MI. She has gained great knowledge from working at a well-known salon/spa in Monroe, MI. Heather will continue educating herself on the latest trends through cosmetology shows and classes several times a year.

Positive Image: Personal appearance is the first impression of any business. A professional, clean, stylish look is the only option when you are in this line of work. The public likes to have good-looking well-groomed cosmetologists assisting them to improve their appearance. We take pride in theirs and ours!

Competitive Pricing: Unfortunately, the economy is not a stable beast but people will always need to get their haircut! It is Rootz salon goal to give clients high-end hair and services for a moderate price. We have researched the pricing in the local area and look forward to being competitive whether the economy is booming or not.